We will secure you a position that you will be able to thrive in
As a candidate, we want to make the most of your skill set, giving you the best possible opportunities, while also listening and acting to meet your career goals.
Our aim is to understand what kind of job suits you, as we know that nobody benefits from a poorly placed candidate. That's why we'll always be open and honest with you from day one. You will have a dedicated team of consultants working with you, and your career success is our number one goal.
Whether you're looking for work in the commercial, industrial, hospitality or manufacturing sectors, our team has industry experience to help you find suitable positions. We can make sure that you receive any necessary training and that all employees check out in terms of registration, safety and licencing. We can also help to secure you the best possible remuneration for the position and offer ongoing support after you've started work. And our team is always on hand to answer any questions that you might have.
As a candidate, you are our client and therefore our number one focus. That's why we will do everything possible to make sure you and your career progress the way you want.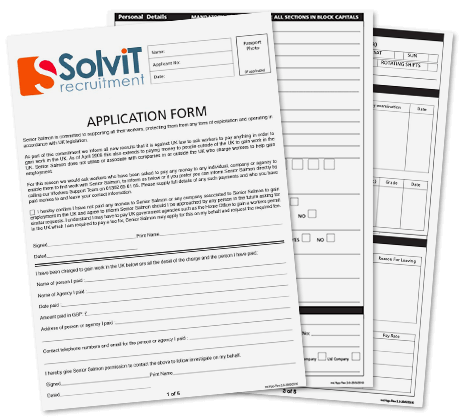 As a candidate you can expect:
In the fast-paced, digital world, you need a recruitment agency that's ahead of the curve. You need SolviT Recruitment.
Our focus is on innovation and how it can improve our service to you. We are continuously improving our processes, giving you, our clients, opportunities simply not available from other agencies.
We dare to be different, but we also offer good old fashioned customer service. Our people have direct experience of your sector, giving you that personal service from initial enquiry through to ongoing support once the vacancy is filled.